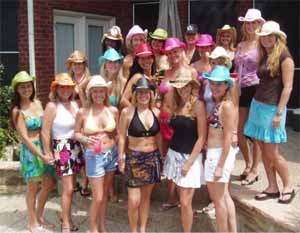 Dear Stefani
Smart Hats has the most alluring line of hats!!! Everyone found the perfect "Smart" hat....

Victoria Pearson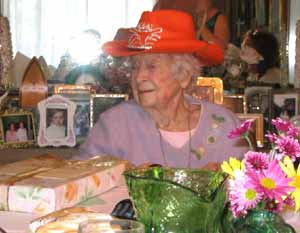 Lorene Frye Burtner will be 100 on Easter Sunday, April 16, 2006. Here she is celebrating her 99th proudly wearing a Texas tiara hat.
Hi Stefani,
I'm sorry that it has taken me so long to do this, but I wanted to thank you for the phone call and the efforts that you made to get the correct hat and tiara to me. Although my co-worker had already moved back to Texas and I didn't need to spend that much money on a (turquoise!) hat for myself, I couldn't resist opening the box and taking a peek at the Texas Star tiara. Well, that was all it took. I love the little star and couldn't bear to send it back. And even better, I wore it on a harbor cruise the other day (feeling self-conscious) and received a bunch of compliments on my "cute hat"! Hope you'll receive some orders from the people I met on the boat.

Thank you again,
Debbie
Received the 2 animal print caps last week and gave one as a gift and had the "fellow gift givers" have a cow about the hat, so I gave her mine and spread the word! Received my red DIVA hat w/ tierra and LOVE it!!! My husband is having a cow about it. LOVES it! Damn horn dog! Thank you!

Suzi Rouse
Oklahoma City Gun Club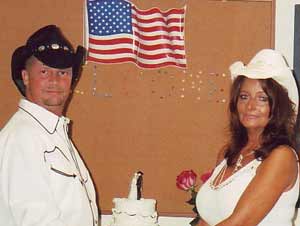 I am enjoying my hats very much. I have gotten so many compliments on all of them. Thanks so much for all your help! I am sure I will be ordering something again in the future.

Kathy
Dear Stefani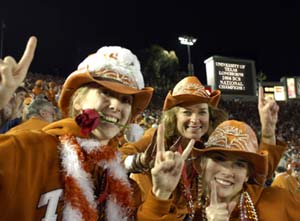 Here are some pictures of your hats at The Rose Bowl (we got many compliments and I referred them to smarthats.com, we also ended up in a USC fan picture because of the "unique hats"). Thank you again for the hats, with Vince's departure for the NFL, it could be another 35 years before we have a year like this, your hats made the magical 13-0 season that much more special.

Lisa
Thanks for having such wonderful hats, I have given your web site to several people, when I encounter someone who is a "hat person", I give them the web site. It is so much fun.

Peace,
Debra Aaron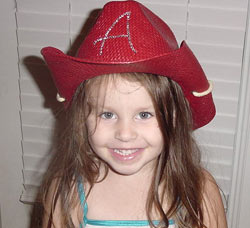 I gave my little girl this cute red straw "A" cowgirl hat for her 4th birthday. She simply loves it! When we go out to the store, she insists on wearing it and we get stopped about every five feet by someone remarking on how cute it is! She wants a pink one with a sparkly tiara next. Thanks so much!

April McDaniel
I wore my SMartHats.com white straw western hat to the Kentucky Derby and you wouldn't believe the response I received! CNN approached me and interviewed me about my experience at the Kentucky Derby and of course, my hat!

Robyn B., Palm Beach, FL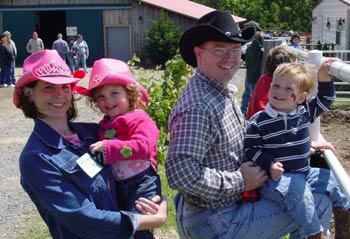 "SMartHats.com got my wife and I on national television tonight on Entertainment Tonight! Last night we attended the Kenney Chesney concert here in Little Rock.

As we were leaving the concert, we were approached by a reporter from ET to give them some scoop on the concert. We believe we were selected due to our SMarthats.com hats! I was wearing by brown Toyo, and Nat was wearing her Pink Toyo Texas Tiara. They are great looking hats!"

Dennis and Natalie Berry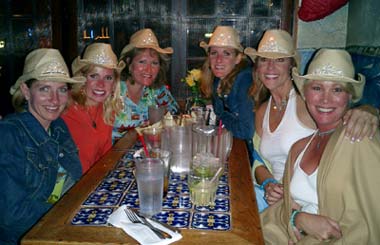 Stephanie Curtis's annual girls trip to California where she gave all of her girlfriends SMartHats Texas Tiaras!"
I love my red western hat! First time ever buying a western and it was from you at Sundance 2004!

Arlene Soodak
Howdy.
Here in Phoenix, AZ and in Phoenix's beach vacation spot, Rocky Point, Mexico, cowboy hats are becoming quite popular. (It's sunny here, and cowboy hats are a very sexy alternative to baseball caps!) All the cool girls at the Roger Clyne concert (ex-Refreshments) in Rocky Point were wearing your 'Texas Tiara' and other more casual styles. I saw SMartHats in a boutique here, Green Eyed Girl."

Lorraine
I have really enjoyed my red wool tiara hat and so has our grand daughter, Shelby. Thanks for the quick response! (Shelby adopted her grandmother's red wool felt western Texas Tiara hat at Christmas.)

Sandy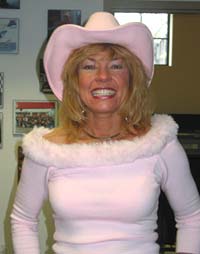 SMartHats are the Best!
I have had a few made and every time I wear one of my hats, I receive a compliment or am asked where I purchased it. These hats are of excellent quality and made to my specifications. When I dress in pink and wear my pink hat, everyone calls me "Barbie" or "Pinky Tuskadaro". It's fun! I had the attached picture made for my husband's office and boy the compliments with my SMartHat. I will continue to have Stefani make my hats.

A happy client…

Tamora Lyn Brashear
Hi Stefani
I just got them- they are perfect and I LOVE THEM! I like the addition of the charm and the tags inside look great.

Thanks, Trisha
Hi Stefani.
I was channel surfing between Regis/Kelly and Ellen but I caught the tail end of R/K- Sean Puffy Combs was co-hosting with Kelly and they were riding a mechanical bull- I saw the part where Kelly was riding and she had the (SMartHats.com pink Texas Tiara) hat on and then she would take it off and so on. The part I saw she never mentioned where the hat came from but I knew from one glance- I can spot a SMartHats.com hat a mile away!
"I love them! All 2 are perfect, thank you sooo much. They arrived on Thursday, you speedy gal."

Phyllis Ward
Dear Stefani,
My cousins received the hat, and they love it. The new mom was very excited and thought that it was great. Says that Miss Cherokee will probably be 2 before she grows in to it, but I took her picture in it anyway. Then, scolded me for spoiling her daughter. I quickly explained to her that I am already a granddad 3 times, and that I CANNOT get in to trouble for spoiling kids, it is my long awaited right.

Thanks again! Don
Stefani and the SMartHats gang.
What prompt service. I am simply dazzled by the speedy delivery of the cutest bright pink cowgirl hat with flashy Texas A&M tiara! And it is even more special- Lindsey will be wearing it with pride when the Aggies play in the Cotton Bowl. Thank you! Thank you! Thank you for the impressive customer service!

Regards, Deborah Clark
Hi Stefani- I received the hat I ordered for Erin and it is wonderful. I can't wait to see her face when she opens this Christmas present. I know she's going to love it. It's definitely large enough, should last quite a while. Thanks very much for your assistance and for such a fun, unique and well made product.

Lora Day 12/2004
Dearest Stefani,
Thank you so much for making the Zeta Tau Alpha fundraiser kick off party such a great success. Your hats are absolutely wonderful and so creative! Your energy and cheerfulness brightened everyone's day.

Love, BJ Washburn
Dear Stefani,
It was a pleasure meeting you at NAACP Image Awards. You are not only very beautiful, but greatly talented. I would like to help you gain exposure for your company and hats... Call me and let me know what you think.

Anthony from Outkast.
Hi Stefani-
I'll send you pics as soon as I get them......the hats were a hit and I was telling all of Scottsdale about your website each time a new comment or compliment was given.

Take care, Laura
---
Stefani-
Thanks so much for your thoughtfulness. Lily loves her hat!

Happy Holidays! Lily, Lisa and Clint Black
Stefani,
Thank you for those cute little SMartHats! Ava's been wearing the pink one out and she loves it! It's very kind of you to think of our little ones.

Thanks- The Ingrams (Jack Ingram)
---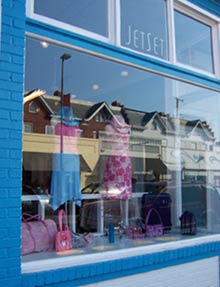 "Dearest Stefani,
These are the cutest hats I have ever seen. Sold the hot pink taking it out of the box!! LOVE IT!! I will be reordering very soon."

Amy Mays, Jet Set Boutique, Richmond, VA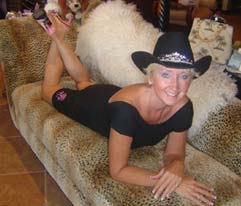 "Your hats are so much fun... The press is awesome!"

Kathy from Green Eyed Girl Boutique in Phoenix, AZ modeling her black wool felt western Texas Tiara hat.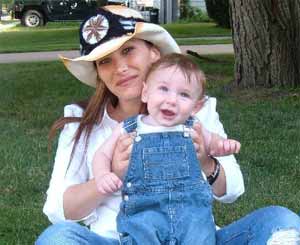 Dear Stefani,
It is AMAZING the attention I receive when I wear my cowboy hat from Smart Hats. I have been stopped in the street....stared at while eating my lunch and had numerous offers to buy the "hat off my head" (which I refused)

As a boutique owner in Birmingham, Michigan I am looking forward to my clients being as happy as I am now that I will be selling them at my store.

Thanks Stefani.....for all of the compliments I receive....I owe them all to you and your gorgeous designs.

Stacie Maier
110 Couture
Birmingham, MI